Only 2 plots left
plot 1 with 1,200 sqm
plot 31 with 574 sqm
The advantage of buying on phase 1 is that it is a sold out development and construction will come to an end in the not too distant future.
Prestigious residential pool villas in the most exclusive resort of Hua Hin

A Community Solar Development

Energy Sharing For A Sustainable Future
HH 22095 Baan Phua Thara is a prestigious residential development of 41 pool villas set on 21 Rai of prime land located mid-way between Hua Hin center and Black Mountain, in a quiet natural stress free environment with mountain views and cool breezes. An outstanding location only 7 km (10 minutesí drive) from the center of Hua Hin and the many beaches but far enough away to ensure peace and solitude.

Baan Phua Thara is an ecologically advanced development designed with many premium features to maximize savings and minimize the cost of living, such as a fully compliant to IEC International Standards electrical system, which comes with automatic grounded circuit safety breaker for 3-phase electricity, a community solar system, uPVC double-glazing windows, rainwater harvesting with large undeground storage tanks, LED lighting and automated safety lighting, inverter air conditioners, roof and over ceiling insulation, low energy ECO swimming pool pumps and energy efficient automatic high pressure water pumps.

There is a fitness center and communal spa bath set in quiet tropical gardens that epitomizes relaxation and refined living and the project offers 24 hrs security, a shuttle bus service to and from Hua Hin, maid services, trash removal, garden and pool maintenance etc.
There is 4 different villa types to choose from on land plots ranging from 450 up to 1,532 sqm. All villa designs are wheelchair frienly and all properties are available "off Plan":
Superior: 2 Bed / 3 Bath, 8 x 4m Pool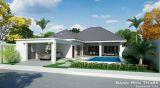 Land Area: 450 sqm
Total Living Area: 138 sqm
Sales Price: 9,336,288 THB
Boutique: 3 Bed / 3 Bath, 8 x 4m Pool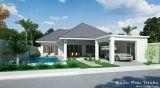 Land Area: 450 sqm
Total Living Area: 163 sqm
Sales Price: 9,763,218 THB
Deluxe: 3 Bed / 3 Bath, 10 x 4m Pool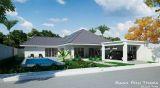 Land Area: 525 - 675 sqm
Total Living Area: 183 sqm
Sales Price: from 11,269,082 THB
Executive: 3 Bed / 4 Bath, 12 x 4m Pool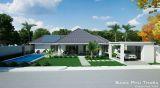 Land Area: 650 - 1,532 sqm
Total Living Area: 203 sqm
Sales Price: from 12,817,140 THB
Update 06/2021: On Plot 5 we could build our Executive Villa or a Deluxe Villa and still have room for a separate guest house, on plot 31 we could only build a Deluxe or Boutique villa.

The sales price of the land plots is 3,750 Baht per Sqm and the sales cost of the Executive Villa would be 9,048,140 Baht the sales cost of the Deluxe Villa would be 8,119,332 Baht and both villas come with a furniture package, swimming pool and landscaped gardens. There is a range of optional extras available.

So for example:

Plot 5 @ 1,200 Sqm = 4,500,000 Baht
Villa Executive = 9,048,140 Baht
Sales Price = 13,548,140 Baht

Plot 5 @ 1,200 Sqm = 4,500,000 Baht
Villa Deluxe = 8,119,332 Baht
Sales Price = 12,619,332 Baht

A one bedroom guest house would cost 720,000 Baht

Plot 31 @ 574 Sqm = 2,152,500 Baht
Villa Deluxe = 8,079,332 Baht
Sales Price = 11,200,640 Baht

Plot 31 @ 574 Sqm = 2,152,500 Baht
Villa Boutique = 6,944,718 Baht
Sales Price = 9,097,218 Baht

back to list